MUSIC IN MY LIFE
You are now on a page dedicated to another passion of mine: music!

Even though I can't play especially well, I nevertheless love guitars.

Through the years, some of them have accumulated here. It began at the age of twelve when I found one in the garbage (which was broken and needed to be glued back together). This is also when I started teaching myself (struggling) the first chords.

At the moment, my favourite pieces are a Taylor, a Lakewood as well as a very cheap and battered guitar--of unknown origin, that I find has a very unique sound.
But I am still dreaming about a Martin D-42....

A little Rockstar (in younger years)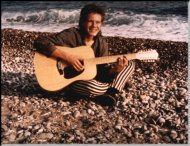 INSPIRATION FOR PLAYING THE GUITAR
This small page is dedicated to those among you who are musicians and especially, to guitarists.

On this page, you will find some of my favourite songs that are particularly ideal for playing on an acoustic guitar and for finger-picking.
There are some simple pieces but also more demanding songs that are - since I am also not an "ultra-guru" guitar player - manageable with a little practice.

Further down, you will primarily find information which should contribute to your enjoyment of playing the guitar, especially the "song dispenser" below is filled with the following:




You will be able find the text, the chords and, in part, also the picking patterns as well as the notes for each of the songs in *.pdf (Acrobat Reader) format.

This is what the files look like (this is an example only with chords and lyrics):




In order to enable individuals to play the songs as accurately as possible, there is a recording of each of the pieces available in MP3 format. A great MP3 Player can be found and downloaded under http://www.winamp.com.


Now you are almost ready to go-please also read the instructions regarding the songs at the end of the page...
--= Peter Horton =--
Toccata for a wild old Lady

Song in MP3 - 2.8 MB

--= Robert Bowlin =-- *1)
Eastland Dream (large/portrait)

Song in MP3 - 2.5 MB

--= Robert Bowlin =-- *1)
Eastland Dream (small/landsc.)

Song in MP3 - same as above

--= Chris Proctor =-- *1)
The Winfield Rag

Song in MP3 - 3.1 MB

--= Mason Williams =--
Classical Gas

Song in MP3 - 2.5 MB

--= J.S. Bach =--
Bourée in E Minor

Song in MP3 - 1.5 MB

--= J.S. Bach =--
Minuet in G Major

Song in MP3 - 1.8 MB

--= Shawn Colvin =-- *2,3)
Shotgun Down the Avalanche

Song in MP3 - 4.0 MB

--= Shawn Colvin =-- *2,3,7)
Polaroids

Song in MP3 - 4.3 MB

--= T. O'Carolan =-- *5,8)
Eleanore Plunkett

Song in MP3 - 1.4 MB

--= Eric Clapton =--
Tears in Heaven

Song in MP3 - 4.4 MB

--= Eric Clapton =--
Layla

Song in MP3 - 4.6 MB

--= Roberta Flack =--
Killing me softly

Song in MP3 - 4.5 MB

--= America =--
The last Unicorn

Song in MP3 - 3.0 MB

--= Jimmy Hendrix =--
Hey Joe

Song in MP3 - 3.3 MB

--= Bruce Springsteen =--
The River

Song in MP3 - 3.6 MB

--= Picking Training =-- *6)
Hello Arlo

Song in MP3 - 0.5 MB

--= Scottish Trad. =-- *6)
Highland Dance Tune

Song in MP3 - 1.1 MB

--= Simon & Garfunkel =--
Kathys Song

Song in MP3 - 2.4 MB

--= Simon & Garfunkel =--
America

Song in MP3 - 4.4 MB

--= Percy Sledge =--
When a Man loves a Woman

Song in MP3 - 2.7 MB

--= Bruce Cockburn =-- *3,4)
Lord of the Starfields

Song in MP3 - 3.3 MB

--= Traditional =--
Five Hundred Miles

Song not yet available

--= Rod Steward =--
Sailing

Song in MP3 - 4.2 MB

--= Dolly Parton =--
Jolene

Song in MP3 - 2.5 MB

--= Suzanne Vega =--
The Queen and the Soldier

MP3: A cool version - 1.2 MB

--= Suzanne Vega =--
Same as above

MP3: version S. Vega- 4.6 MB

--= Crowded House =--
Weather with you

Song in MP3 - 3.5 MB

--= Bobby Gentry =--
Ode to Billy Joe

Song in MP3 - 4.0 MB

--= Sina =-- *9)
Fär d's Franz-Josi

Song in MP3 - 3.7 MB

--= Sarah McLachlan =--
Building a Mystery (Lilith Fair)

Song in MP3 - 4.2 MB

--= Sarah McLachlan =--
Building a Mystery (Acoustic)

Song in MP3 - 3.8 MB

--= Kenny Rodgers =--
Lucille

Song in MP3 - 3.5 MB

*1)
From "Winfield Winners" - a "must" for all guitarists. A song book with guitar tab and notes, including a CD--with all songs from 1979 to 1994 that have won this National Fingerpicking Championship. It is worth getting just for the CD alone since it is extremely enjoyable to listen to (MelBay MB95678BCD)!
*2)
To play in a "Shawn Colvin style" is inspiring - a type of rhythmic percussion picking...
*3)
From one of my absolute favourite CD's: Columbia Records Radio Hour, Vol 1. Includes various artists (such as, for example, Leonard Cohen, Lou Reed, Mary Chapin Carpenter, Shawn Colvin, Bruce Cockburn and many more) who also meet once a month on a Sunday morning to play their songs live on the radio - it's great!
*4)

The simple but eerie effect of the picking of this beautiful ballad is next to the music sheet included as a Guitar-Pro file too.
Guitar-Pro is ideal for taking note of tabulations which also can then be played on a PC. You can download Guitar-Pro under the following web site address: http://www.guitar-pro.com.

*5)
Like *4) this piece is provided as tabulature for the computer, instead of Guitar-Pro here the program "TablEdit" is used. TablEdit can be downloaded for free at http://www.tabledit.com.
*6)
These two small pieces are very good for both beginners who want to learn about finger-picking and for those, who want to test their own playing ability. They are from a great book (also with CD) "Finger Picking Guitar" by Dieter Szametat (ISBN 3-927190-80-2).
*7)
The songs is best played in drop D tunig. Don't worry about retuning, simply use an "open" Capo (with Bird of Paradise it's done without retuning and in no time - by the way it also doesn't put your guitar out of tune) on the second fret and let the first string open. Then brush on over strings.... And? Huu, how does it sound like?
*8)
One of my favorite pieces. This little and easy Irish ballad is perfect for fingerstyle - like if angels would sing...
*9)
This is the absolute cool version in SWISS GERMAN of the song "Ode to Billy Joe" - you must hear it *swear*!
WHAT FOR ALL THIS?
The reason for this is that I have songs in a variety of forms: there are tons of lyrics and notes swirling around even though there are often only one or two songs that I personally like in a song book. For some of the songs, I only managed to get the text from the Internet or copied it from loose sheet music. In the past, when I wanted to quickly play something I would always have to start a big search operation first (and a rush like that frightens and confuses the muse lasting as everybody knows) ...

At some point, I started to place and organize all the songs that I enjoy playing, more or less on a regular basis, into a nice song binder for easy access.

This idea proved to be well worthwhile. But the effort only makes sense if also other guitarists can share it. So I decided to put this stuff on my website and I hope, it's also of use for you.


Did I mention already, that most of the songs and sheet music is available in a hidden area, the "VIP Lounge" ? Just have a look, if you're interested in swapping, you'll find for shure something you'll like.
LEARNING TO PLAY BY LISTENING



Another tip: fiddling and trying to find out how the picking of a song works, is a lot easier when one plays the CD or MP3 slower without changing the tone pitch.... This is also helpful when one wants to play along with a song but is not quite able to keep up with the speed of a piece.
And how can one play a slow down a song on a CD or an MP3? It's simple: take the "Win Amp" which can be found and downloaded under http://www.winamp.com. There also you get the two plugins you'll need:

- Slow Me Down (for slowing down a song)
- Loop Master (for repeating parts of a song)
I would naturally like it very much if you entered your comments in the Guest Book. Since I still have piles of music sheets lying around, I would also be happy to try and provide more information regarding playing techniques down the road.


Again, if you're interestet in swapping sheet music take a look on my collection of selected songs for the guitar in the VIP Lounge.

I wish you lots of fun and success with regards to your playing!